Few bands have the performing "chops" to release a live album, but acoustic, world-jazz band VERONNEAU thrive on stage where they can engage with their audience. The voice of Quebecoise vocalist Lynn Veronneau soars and echoes alongside the sounds of cicadas as the joyous audience respond to this award-winning band, joined by guests Dave Kline (violin) and Bruno Lucini (percussion).
"Welcome to the land of rhythm and groove…the jazz vocal version of the sexy little black dress." Critical Jazz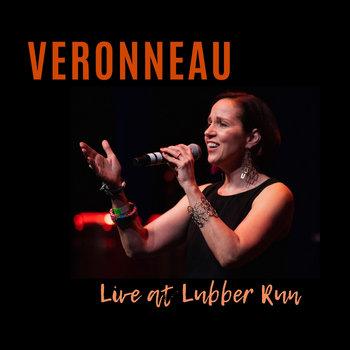 Live at Lubber Run captures the unaltered and unfiltered sound of the band on a warm summer evening outdoors at the Lubber Run Amphitheater in Arlington, Virginia. Performing songs from their three Top 10 charting albums, and a few audiences favorites that have never previously been recorded, the album provides an overview of the original and classic songs Veronneau have been delighting audiences with over the last 10 years.
"Live at Lubber Run" was awarded a WAMMIE award in 2020 for Best World Music Recording. Veronneau's 7th WAMMIE award during their 10 year career.
The album is available as a digital download at this link – but in appreciation of fans, limited quantities of the physical album are available at live shows.
",,,,could easily fit on jazz, world and pop radio…a kaleidoscope of internationally flavored tunes and varied textures….Veronneau has a gorgeous voice." All About Jazz